Your Guide to Diving Panama

All of Undercurrent's information on diving Panama, including articles, reader reports, Chapbook sections, ...
Panama Seasonal Dive Planner
There is some interesting diving around Coiba Island and its National Park, off the Pacific coast of tropical Panama. It's good to dive at any time of year. Water temperature varies between 78°F and 85°F (26-29°C) with a colder layer under a thermocline of 75°F (24°C) at 65ft (20m).

The Caribbean coast is less notable for good diving with water temperatures similar to the Caribbean coast of Costa Rica and Colombia. Don't confuse Panama City with Panama City (FL) when you book your flight. It's not been unknown to happen!
Diving Panama Reader Reports and Feature Articles
Attention!
Undercurrent Online Member
to view the complete members-only reports and articles.

Some articles that can be fully accessed by the public
have a

button..

Latest Reader Reports from Panama

from the serious divers who read Undercurrent
All 10,000+
Reports
Scuba Coiba Report in Panama/Coiba National Park
"Accommodating service and a great dive experience in Coiba"
filed Mar 10, 2020 by Keith Willmott (Experience: 101-250 dives, 8 reports, Sr. Reviewer )

Our second trip to Coiba National Park with Scuba Coiba – we did 2 dives in June 2018, and 4 dives in January 2020. We dived around Isl... ... Read more

---

Coral Dreams Report in Panama/Pearl Islands/Islas Perlas
"Pleasant diving among stunning islands"
filed Jan 15, 2020 by Keith Willmott (Experience: 101-250 dives, 8 reports, Sr. Reviewer )

This was our second trip to the Pearl Islands/Islas Perlas diving with Guillermo of Coral Dreams, after which we again dived at Isla Co... ... Read more

---

Golden Frog Scuba Report in Panama/Portobello
"Diving in Portobello Panama"
filed Nov 20, 2017 by Jim Tompkins (Experience: Over 1000 dives, 9 reports, Sr. Reviewer )

Ray Sanchez owner of Golden Frog Scuba made the arrangements for a hotel and meals in Portobello. The hotel (El Bongo) was comfortable ... ... Read more

---

Bocas Dive Center/Red Frog Resort Report in Panama/Playa del Toros
"Wish the weather was better"
filed Oct 11, 2017 by William Wallis (Experience: 101-250 dives)

Excellent service. Very few divers in June. 1-3 divers on the boat with two dive masters. Due recent rains vis was poor to fair and ... ... Read more

---

ScubaCaribe Report in Panama/Playa Blanca
"Surprisingly good place for a couple of dives"
filed Dec 20, 2016 by Harvey S. Cohen (Experience: 251-500 dives, 25 reports, Sr. Contributor )

I booked a 2-tank dive one day, just to stay in practice for warm-water scuba. Based on what few reports I could find on the Web, I exp... ... Read more

---
Complete Articles Available to Undercurrent Online Members; Some Publicly Available as Indicated

Diving Panama Articles - Liveaboards


Available to the Public
Fiji, Iceland, Maldives, Raja Ampat, trouble in Cozumel, a bad critter-handling policy in Kauai, 5/15
M/V Yemaya, Coiba Island, Panama, An alternative to Cocos and Mapelo, 2/11
Panama's Coiba National Park, 2/11

Diving Panama Articles - Land Based


Available to the Public
Pedasi, Isla Coiba and Bocas del Toro, Panama, a whirlwind dive trip, with great surface intervals, 5/15
Thumbs Down: Gamboa Tours, Panama, 2/09
Thumbs Down: Scuba Coiba and Coiba National Park, Panama, 4/08
Scuba Coiba, Panama, Pacific Coast, from penal colony to protected marine site, 5/07
On the Run in Panama, 3/07
Scuba Coiba, Santa Catalina, Panama, still unspoiled ... for now, 3/06
Moody's Pidertupo Village, San Blas Islands, Sadly, Our Final Report, 7/82
Moody's Pidertupo Village San Bias Islands, Panama, Where to get the monkey off your back, 3/79
Panama Sections from Our Travelin' Diver's Chapbooks
Reader Reports filed for that year
Editor's Book Picks for Scuba Diving Panama

The books below are my favorites about diving in this part of the world All books are available at a significant discount from Amazon.com; just follow the links. -- BD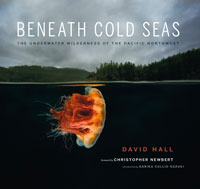 Beneath Cold Seas: The Underwater Wilderness of the Pacific Northwest
by David Hall
It's hard enough to take a first-rate photo of reef life in the best of conditions. Try doing it in murky, bone-numbingly cold water while wearing a dry suit with 40-plus pounds of weights around your waist, and thick, insulating gloves that make it hard to use the camera controls. That's what David Hall had to endure while photographing in Canadian waters, but those physical disadvantages make Beneath Cold Seas all the more amazing.
Hall's book successfully disputes the belief that cold-water reefs are drab and dismal. He has regularly photographed the world's most beautiful dive spots for major magazines from National Geographic to Time. While Hall's shots are taken entirely at Browning Passage in British Columbia, the reef life he shoots resides along the Pacific Coast, from Northern California up to Alaska, and they are as diverse and spectacular as any creature in Raja Ampat or Fiji.
Click here to buy it at Amazon via our website -- our profits go to save the reefs.
---

Reef Fish Identification: Baja to Panama
by Paul Humann and Ned Deloach
The latest edition in the popular Paul Humann series of marine life books. The most comprehensive field guide ever compiled for identifying reef fishes from the Gulf of California to the Pacific coast of Panama, including offshore islands. More than 500 photographs of 400 species taken in their natural habitat. The book is dedicated to Baja Legend Alex Kerstitch and includes several of his drawings and photographs. The concise text accompanying each species portrait includes the fish's common, scientific and family names, size range, description, visually distinctive features, preferred habitat, typical behavior, depth range, and geographical distribution.
Click here to buy it at Amazon.
---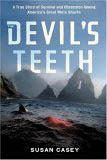 The Devil's Teeth: a true story of Obsession and Survival among America's Great White Sharks:
by Susan Casey
Perhaps the greatest gathering of great white sharks in the world is at the Farallon islands, 26 miles from San Francisco. Researchers have tracked and studied them for years and at least one diver still collects sea urchins in the midst of their gatherings. Journalist Susan Casey lived on these barren islands to write a fascinating, awe-struck account of the sharks, their amazing behavior, their killing strategies, their long distance travels, and life with the researchers. Click on this Undercurrent link to purchase the 304-page, hardbound, The Devil's Teeth at Amazon.com's best price, and all our proceeds will go to coral reef conservation.
---

An American Underwater Odyssey: 50 Dives in 50 States
: by Charles Ballinger.
Underwater Odyssey is the story of a scuba diving safari to every state in America. Tired of touring coral reefs, the author embarks on a year-long quest to discover the incredible assortment of adventure diving found in our nation's backyard. His dogged determination to follow his dreams and explore everything from flooded missile sites to abandoned mines should be an inspiration for any diver. Underwater Odyssey transcends the limits of a dive guide to reveal the broader adventure that diving provides.
Click here to buy it at Amazon.
---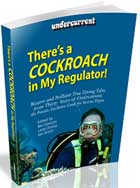 There's a Cockroach in My Regulator
by Undercurrent
The Best of Undercurrent: Bizarre and Brilliant True Diving Tales from Thirty Years of Undercurrent.

Shipping now is our brand new, 240-page book filled with the best of the unusual, the entertaining, and the jaw dropping stories Undercurrent has published. They're true, often unbelievable, and always fascinating. We're offering it to you now for the special price of just $14.95.

Click here to order.
---
You might find some other books of interest in our Editor's Book Picks section.