Your Guide to Diving Hawaii
Including Maui, Kauai, Kona and Oahu
All of Undercurrent's information on diving Hawaii, including articles, reader reports, Chapbook sections, ...
Diving Hawaii Overview
Hawaiian dive guides have developed great skill in finding the unique: On the Big Island of Hawaii, Spanish dancers, rare juveniles, and lionfish are regulars. Diving is mostly lava flow dives with little coral cover, but the tropical fish are colorful, unique, and generally plentiful. There's access to good shore diving. Kauai reef diving is passable, but the attraction is unique trips available only in the summer. Maui's diving is often to the backside of Molokini or Lanai, and boats leave at 7 a.m. or earlier. Turtles are common, and occasional white tip shark adds to the fun, and the reef fish are colorful. Most reefs around Honolulu and Oahu have declined considerably, but there is some decent diving toward the north side. Nine months a year expect clear water, visibility that's usually better than the Caribbean -- around 100 feet (30m) -- and air temperatures of low 80°F (26°C). Water temperatures hit a low 70°F (20°C) in January and February when storms can last several days and cut visibility. There are plenty of condos for rent everywhere, and you'll need a car since dive boats are not berthed at hotels.
Hawaii Seasonal Dive Planner
Temperatures in Hawaii vary little from island to island, remaining around 85°F (29°C) most of the year. From November through March, occasional cool spells drop temperatures down to 72°F (22°C) and rarely lower. Winds become more variable, and storms are more likely. Water temperatures vary from 70-84°F (21-29°C) The weather is warmest and driest from May to October, with persistent winds. There is no set hurricane season as there is in the Caribbean. The tourist off-season is from September to early December and again from mid-April to early June. Humpback season is from November to May.
Diving Hawaii Reader Reports and Feature Articles
Attention!
Undercurrent Online Member
to view the complete members-only reports and articles.

Some articles that can be fully accessed by the public
have a

button..

Latest Reader Reports from Hawaii

from the serious divers who read Undercurrent
All 10,000+
Reports
Sea Through Sea/none Report in Hawaii/Kailua Kona
"Pelagic wildlife adventures with respect"
filed Sep 28, 2023 by David W McGuire (Experience: Over 1000 dives)

We dove with Sea Through Sea several times seeking oceanic whitetrip sharks for our film Kahu Mano, and other large pelagics. Jim Ward ... ... Read more

---

Explore Kauai Scuba/Kauai Shores Report in Hawaii/Kauai-Niihau
"Niihau Bucket List was fulfilled with Monk seals, Sharks and Caverns"
filed Sep 25, 2023 by Frank G Postillion (Experience: 501-1000 dives, 5 reports, Reviewer )

I have read a lot about how Kauai has mediocre diving, since it is so far north, and unlike the Big Island has less coral,fish and pela... ... Read more

---

Kohala Divers/N/A - Private Home Report in Hawaii/Big Island
"Great Dive Operation"
filed Jul 20, 2023 by Jan Hendrix (Experience: Over 1000 dives)

Typical Hawaii diving - hard corals, lots of rubble, not soft coral, sponges or sea fans. Interesting topology due to lava formations. ... ... Read more

---

Island Style Diving Report in Hawaii/Maui
"Island Style Diving"
filed Jun 3, 2023 by Wayne Joseph (Experience: 501-1000 dives, 13 reports, Contributor )

After decades of diving Maui with Mike Severns Diving (Pauline & crew) I decided to try Island Style Diving, owned by Javier & Christin... ... Read more

---

Liquid Cosmos Divers Report in Hawaii/Big Island
"Great dive operator diving sites off the beaten path"
filed Feb 26, 2023 by Jonathan Jennings (Experience: 251-500 dives)

The good - Liquid Cosmos operates a fairly new, purpose-built, dive boat on the Kohala coast of the Big Island. The boat is in excel... ... Read more

---
Complete Articles Available to Undercurrent Online Members; Some Publicly Available as Indicated

Diving Hawaii Articles - Liveaboards


Available to the Public
Kona Aggressor II, Kona, Hawaii, the most exciting moment wasn't the manta night dive, 3/19
Belize, Vieques, Indonesia, Molokai, Christmas crowds, lousy food, white tips and mantas, 4/17
Maldives, Hawaii, Indonesia . . ., some dive operators who need to change their rules, 11/13
Bahamas, Hawaii, the Red Sea. . ., one Micronesia resort worth visiting, another that's not, 7/13
Diving From the Kona Aggressor II, Live-aboard Diving in Polynesia, USA, 3/00
Caribbean Sailing, Hawaiian Cruising, And Just about all the diving you want., 9/77

Diving Hawaii Articles - Land Based

Little Cayman, Maui, Raja Ampat, Texas Oil Rigs , thresher sharks, dying reefs, barefoot elegance, 9/23
Rangiroa, BVI, Guanaja, Bermuda, Maui and More, great diving, unsafe liveaboard, 7/23
Too Many Divers and Snorkelers Reduce Molokini Fish Populations, 5/23
Maui Dreams, Dive Maui, Dive Kauai, a smorgasbord of Hawaiian diving, 1/22

Available to the Public
Fiji, Molokai, Little Corn Island, St. Eustatius, following the guide leads to skin bends, 11/19
A Huge Great White Shark Controversy, what's the difference between advocacy and self-promotion?, 2/19
Hawaii Fish Collectors: In a Fine Mesh, 9/18
A Kauai Frogfish Follow-Up, letters from Hawaii and what you thought, 1/18
Why So Many Maui Shark Attacks?, 7/16
Belize, British Virgin Islands, Hawaii, a KKK leader's resort, a dive shop's faulty rental gear, 4/15
Kona Diving Company, Kailua-Kona, Hawaii, cool endemic critters and -- with luck -- a manta show, 3/15
Florida, Maui, Palau . . ., good and bad Bahamas dive shops; the best week to dive Bonaire, 10/14
Hawaii Snorkeler Dies in Rough Water, 9/14
Regulator-Removing Diver Charged with Terroristic Threatening, 8/14
Key Largo, Maui, New Zealand . . ., maiden voyage kinks in Thailand, a rude photo pro in Bonaire, 5/13
Bonaire, Maui, Phuket…, Francis Coppola's five-star resort, a clueless Cozumel divemaster, 6/12
Hawaii Shark Feeding Tour Controversy Leads to Dismissed Lawsuit and Arson, 2/11
Oman, Fiji, Hawaii, Bahamas…, need a change of pace? check out these dive sites and operators, 4/10
Hawaii Crushes a Reef with 50 Tons of Concrete, 2/10
Thumbs Down: Dive Ops Demanding a Profit on Every Dive, 9/09
Where Have Hawaii's Fish Gone?, check home aquariums back on the mainland, 7/09
REEF Field Survey, Kona, Hawaii, tax-deductible "immersion training", 1/08
Scuba Shack's No Peeing Rule, 4/07
Hawaii Takes a Bite Out of Shark Tours, 4/07
Hawaiian Tips, 2/05
Will Maui Stop Beach Diving?, 4/04
Thumbs Down: Short Fills from Lahaina Divers, 3/04
Dive Makai, Kailua-Kona, Hawaii, pacific critter diving on the Kona coast, 10/03
Oahu's North Shore, better than you've been led to expect, 10/02
Thumbs Down, 7/02
Niihau and Lehua, Offshore Kauai, big fish diving from a day boat, 1/02
TRAVEL TIP HAWAII: WHERE HAVE ALL THE MANTAS GONE?, 9/99
Kauai and Beyond, Aloha, vacationers! Diving? Sure, we got that, 2/97
Kauai Adventure, 7/95
Diving the Kona Coast, 11/94
Oahu, Hawaii, For Conventioneers Only, 9/84
Maui, Hawaii, How Not To Relax When Diving, 8/84
Fish?watching in Hawaii, 6/82
Honolulu's Hanauma Bay, The Home of Simulated Scuba Diving, 11/80
Island of Maui, Hawaii, Git there while the gittin's good, 11/78
The Kona Coast, Island of Hawaii, Good diving for spenders or spendthrifts, 7/76
Lahaina, Island of Maui, Hawaii, Whales, Sharks, Porpoises, and Pulchritude, 10/75
Hawaii Sections from Our Travelin' Diver's Chapbooks
Reader Reports filed for that year
Editor's Book Picks for Scuba Diving Hawaii
Including Maui, Kauai, Kona and Oahu
The books below are my favorites about diving in this part of the world All books are available at a significant discount from Amazon.com; just follow the links. -- BD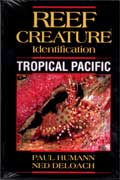 Reef Creature Identification: Tropical Pacific
by Paul Humann and Ned Deloach
Paul Humann and Ned Deloach have done it again, releasing a definitive identification guide to 1600 extraordinary reef creatures of the Tropical Pacific. with this 500+ page softbound guide, you get upwards of 2000 exceptional photos of shrimp and crabs and stars and worms and lobsters and nudibranchs and slugs and squid and bivalves . . . well, all those invertebrates that move along the reefs of this region without fining, so it seems. There are several photos of some creatures to help you identify them during different life stages, and about ten percent of the book is descriptive copy so you can tie down your identification. Even if you have no plans to go to the tropical Pacific, just to thumb through the pages, gawk at the complexity and uniqueness of these animals, and read a thumbnail sketch will give any serious diver vicarious thrills for endless hours.
Click here to buy it at Amazon.
---

Reef Fish Identification: Tropical Pacific
by Gerald Allen, Rodger Steene, Paul Humann, & Ned Deloach
At last, here's a comprehensive fish ID guide covering the reefs of the Pacific and Indian Oceans. The generous 500-page text, displaying 2,500 underwater photographs of 2,000 species, identifies the myriad fishes that inhabit the warm tropical seas between Thailand and Tahiti. The concise text accompanying each species portrait includes the fish's common, scientific and family names, size, description, visually distinctive features, preferred habitat, typical behavior, depth range, and geographical distribution. This is an essential book for every diver traveling westward. 6x9 inches.
Click here to buy it at Amazon.
---

Dive Sites of the Great Barrier Reef
by Neville Coleman.
With 2900 reefs in 220,000 square miles, the enormous Great Barrier Reef has incredible dives -- and some very ordinary ones. If you're contemplating a trip, Neville Coleman's Dive Sites of the Great Barrier Reef and the Coral Sea will help you ensure you pick the best. This 176 page book, with good maps and scores of colorful photos, describes the significant sites, the topography and the critters, then rates and ranks them so you can pick the best. Don't even consider a trip to Australia without consulting this. $24.95
---

Indo-Pacific Coral Reef Field Guide
by Gerald R. Allen, Roger Steene.
I was trying to pack light for a change. Surely the Solomon Sea would have good identification books aboard. Not so; the only book on the boat belonged to a fellow passenger. It was one that I had not seen before, the Indo-Pacific Coral Reef Field Guide, by two of the best fish guys around, Gerry Allen and Roger Steene. The problem was this fellow passenger kept it in a plastic baggie most of the trip and I had to beg to see it. Great book, good traveling size, and it covers everything from fish, shells, marine plants, mammals, corals, and invertebrates to sea birds and more. Now I've got my own, and it won't do you any good to beg me to borrow it. This is one of two books that I will not travel to the Pacific without. Good for travel to the Red Sea, East Africa, Seychelles, Mauritius, Maldives, Andaman Sea, Malaysia, Indonesia, Philippines, Australia, Micronesia, Polynesia, and Hawaii, it has 1,800 color illustrations in a 6x8 1/2 paperback format with 378 pages. $39.95.
---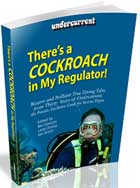 There's a Cockroach in My Regulator
by Undercurrent
The Best of Undercurrent: Bizarre and Brilliant True Diving Tales from Thirty Years of Undercurrent.

Shipping now is our brand new, 240-page book filled with the best of the unusual, the entertaining, and the jaw dropping stories Undercurrent has published. They're true, often unbelievable, and always fascinating. We're offering it to you now for the special price of just $14.95.

Click here to order.
---
You might find some other books of interest in our Editor's Book Picks section.