Wow! What Happened to WAOW?
Free-to-Read in Undercurrent this Month
Sex Discrimination? Me Too?
Eight Great Liveaboards (and One Disaster) plus Eight Great Dive Resorts (and One Dog)
Shark Charities Thank President Trump!
Are You Struggling to Read Your Computer?
Plastic Pollution
When Your Liveaboard Is a No-Show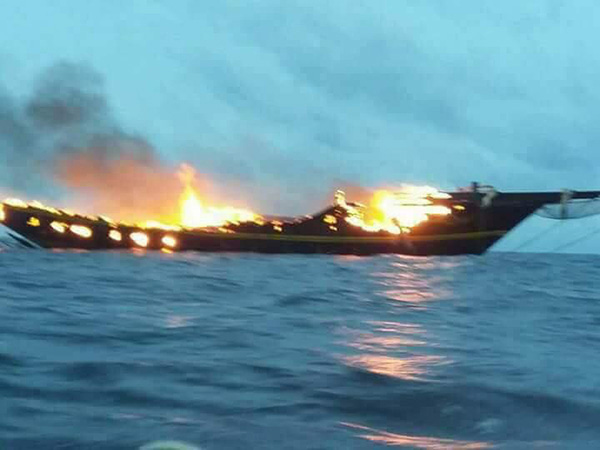 Wow! What Happened to WAOW? February 17, 2018
The diving world was shocked to hear that, on the last night of January, one of the most luxurious and therefore expensive liveaboards, WAOW, had caught fire and sunk in the West Papua, Indonesia. Some of the guests who had disembarked that evening only heard about it when they'd made the long haul home. It dragged anchor during a storm. When the crew attempted to start the engines, an electrical fire took hold, spreading rapidly. No one was hurt.
Free-to-Read in Undercurrent this Month February 17, 2018
Undercurrent subscribers can publish on our website reports of their dive trips featuring both what's good and what's bad about their experiences. This month we feature some of latest comments including details of journeys to the Chinchorro Banks in Mexico, Alor in Indonesia, Belize and Roatan, and how cut-rate trips leave those that book early and pay full price steaming. This month Undercurrent tells the sad tale of a new diver who failed to take off his weight belt on a dive boat and drowned when he fell overboard when the boat was rocked by a wave. These stories are free-to-read at www.undercurrent.org
Sex Discrimination? Me Too? February 17, 2018
In recent issues, we've published reports from female subscribers about their treatment by dive guides on liveaboards and resort dive boats. They seem to be the result of a macho male attitude, not only in developing countries but also from men who should know better. Are you a female diver who has experienced unfortunate attitudes while abroad or even when diving at home? Worse than that, have you experienced outright sexual harassment when diving? We'd like to hear about it. Write to BenDDavison@underrcurrent.org
Eight Great Liveaboards (and One Disaster) plus Eight Great Dive Resorts (and One Dog) February 17, 2018
Undercurrent is in its 43rd year of publication, and if you try a membership, I'll give you get these two 40-page books free. Undercurrent is the ad-free monthly guide for serious divers, with the first-hand resort and liveaboard reviews from our incognito writers who pay their own way, as well as the latest on diver safety, health, equipment problems and much much more. If you join, you can download these free books, then each month you will receive in your inbox our 20-page, advertisement-free, issue. If you don't like it, I'll refund your payment, yet both books are yours to keep. Sign up here for a $19 seven-month trial subscription and join the more than 10,000 experienced divers who read us regularly.
Shark Charities Thank President Trump! February 17, 2018
Market Watch reports that Atlantic White Shark Conservancy and Sea Shepherd Conservation Society have been flooded with donations after it was revealed that Stormy Daniels, the alleged paramour of Donald Trump, claimed that Trump had told her, "I would never donate to any charity that helps sharks. I hope all the sharks die." Captain Paul Watson said Sea Shepherd had received quite a few donations from benefactors who specifically mentioned Trump's comments.
Are You Struggling to Read Your Computer? February 17, 2018
There may be plenty of masks available for people who need minus-strength lens correction, but there are only a few manufacturers that have spotted the potential of the gray dollar, and these include TUSA with its CEOS mask and Scubapro with the Zoom EVO. Both can easily be fitted with off-the-peg plus-strength lenses in store at minimal cost. You don't see sharply very far underwater thanks to the turbidity, so concentrate on the close-up performance, although you may have to lift your mask at the surface to spot your dive boat!
Plastic Pollution February 17, 2018
The world has suddenly woken up to the problem of plastic in the ocean but were you aware that diving equipment manufacturers are partly culpable? It's not the snorkel you may accidentally drop but the disposable plastic bag it came in. This is a picture of a typical stock of fins in a dive store. Don't write to us; write to the manufacturer of your favorite brand.
When Your Liveaboard Is a No-Show February 17, 2018
A Chicago diver made a twenty hour journey for a trip aboard the Oman Aggressor, only to learn when she arrived, that the trip was cancelled because there were not enough divers. What compensation should she receive? Read her story and vote here.
Ben Davison, editor/publisher
Contact Ben
-----------------------------------------------------------------------------
Note: Undercurrent is a registered 501(c) (3) not-for-profit organization donating funds to help preserve coral reefs. Our travel writers never announce their purpose, are unknown to the destination, and receive no complimentary services or compensation from the dive operators or resort.
I want to get the full story! Tell me how I can become an Undercurrent Online Member and get online access to the complete articles from current and back issues of Undercurrent as well as thousands of first hand reports on dive operations worldwide

Highlights of Previous Online Updates
*
Here are past Online Update emails sent out . You can sign-up for free to receive these in the future here.
* Sometimes referred to as Upwellings