The Sculpture Coralarium
A "Must Read" Thriller for Divers
Been In a Washing Machine?
Earthquake Disaster in Lombok and the Gili Islands
News for Sherwood Avid BCD Divers
Coming Soon in Undercurrent
Paralenz Plus
Cave Diving Is All the Rage
Subscribe Now
Free to Read in Undercurrent This Month
What Youíre Missing in Undercurrent This Month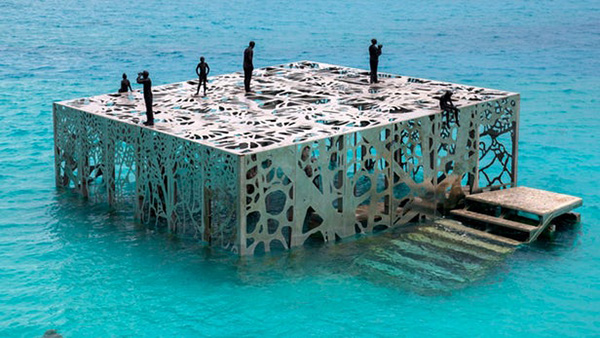 The Sculpture Coralarium August 16, 2018
Following his extensive underwater sculpture parks in London, Cancun, Nassau, Grenada and the Canary Islands, British sculptor Jason deCaires Taylorís latest venture is in the Maldives. The Coralarium is a semi-submerged tidal art gallery in a lagoon on the island resort of Fairmont Sirru Fen Fushi. Accessed by a submerged staircase, the structure itself is a stainless steel cube, and visitors must snorkel or swim 500 feet to it, following an underwater path paved with planted corals.
A "Must Read" Thriller for Divers August 16, 2018
Thatís what Scuba Diving says about Tropical Ice. Set in Belize at a rundown dive resort called Captain Jackís Rum Point Inn, itís a fast-moving scuba thriller written by the founder of Undercurrent. The opening chapter will knock your booties off. Itís followed by a dangerous night dive, shark fins secretly stowed on a remote key, and the beautiful owner of a rainforest lodge with her own deep secrets. Click here to order an autographed copy (we will email you to see how you want it inscribed). Or get the paperback, E-book or Kindle version from Amazon by clicking here. Itís a great diving yarn.
Been In a Washing Machine? August 16, 2018
Currents donít always go horizontally. Sometimes they go up, sometimes they go down. Sometimes they do both in short order -- notably where big ocean currents meet constrictions of channels, or are blocked by underwater obstructions, or the tidal flow is forced to divert around small islands. Have you enjoyed the experience and how did you cope? Weíd like to hear. Write to BenDDavison@undercurrent.org and tell us all about it. Donít forget to give us your town and state.
Earthquake Disaster in Lombok and the Gili Islands August 16, 2018
Jared Herb of Manta Dive in Gili Trawangen, reports that the damage on those islands is severe. The 6.9 magnitude quake last week killed hundreds and displaced hundreds of thousands. All dive operations are closed and many staff had their homes destroyed, but theyíre focused on raising money to buy supplies for families and cleaning up. You can help by donating to https://www.globalgiving.org/projects/indonesia-earthquake-relief-fund/ or https://pennyappeal.org/news/indonesia-earthquake
News for Sherwood Avid BCD Divers August 16, 2018
Weíre still hearing from divers who have had their tanks break away from their Avid BCs during a dive, with possibly disastrous consequences. Have you had a problem? More info in Septemberís Undercurrent.
Coming Soon in Undercurrent August 16, 2018
Carriacou, a quiet place with some of the Caribbeanís best diving . . . Sunset House on Grand Cayman . . . diving the Japanese War fleet in Truk Lagoon . . . Siladen in Indonesia . . . overweighted divers . . . is your regulator mouthpiece causing pain? . . . the scuba divers who are most at risk for heart attacks . . . ups and downs of tropical currents . . . in praise of liveaboard diving . . . disappearing Florida blacktips . . . and much, much more.
Paralenz Plus August 16, 2018
An improved version of the Paralenz POV camera, designed for divers with an automatic white balancing feature, now has an increased depth rating of 820 feet. With screws now made of titanium, it also has a new aluminum end-cap CNC with a scratch-resistant glass window. Better anodizing of all parts makes for a more scratch-resistant surface, and it has an improved screwless selector ring. $699 www.paralenz.com
Cave Diving Is All the Rage August 16, 2018
Summer is usually the slowest season for scuba diving at the water-filled Bonne Terre Mine in Missouri, about an hour south of St. Louis. Not this year. The rescue of the soccer team from the Thailand cave last month has led to an upswing in demand for cave diving courses. According to PADI, Cavern Diver certifications have increased 150 percent over this month last year.
Subscribe Now August 16, 2018
and get immediate access to all back issues. Youíll also get a free download of Thereís a Cockroach in My Regulator, our 242-page book with the most outrageous and insightful true dive stories Undercurrent has ever published. All for $29 for eight months, and my personal money-back guarantee. To join the club of thousands of other experienced divers who subscribe, get our special rate of $29 for eight months by simply clicking HERE.
Free to Read in Undercurrent This Month August 16, 2018
Can you imagine scuba diving in the narrow confines of an unfamiliar cave system with no clear surface and little to no visibility, all while fighting a strong current? Itís not for the faint-hearted. The world held its breath while two intrepid British cave divers went in search of the dozen boys of the Wild Boars soccer team, who went for a hike in a Thai cave system one June day and were found, trapped by water, two weeks later. And even after the boys were found, there was still the seemingly insurmountable hurdle to get them out safely. It took a heroic multi-national effort. Weíve got the whole story, including why a good nose was important in the search. You can read it for free here.
What Youíre Missing in Undercurrent This Month August 16, 2018
Great diving from a not-so-great liveaboard in the Red Sea . . . top Picks for Egyptian liveaboards . . . Dive Friends in Bonaire . . . Bonaire shore diving isnít for everyone . . . the best magnifying glasses for spotting critters . . . are you prepared to run out of air? . . . how to measure tank sizes . . . coral-killing sunscreen . . . marine noise is deafening to fish . . .. . .who are the rudest divers? . . . Questions surround the death of the Sharkwater filmmaker . . . and more.

To join the club of thousands of other experienced divers who subscribe, get our special rate of $29 for eight months by simply clicking HERE.
Ben Davison, editor/publisher
Contact Ben
-----------------------------------------------------------------------------
Note: Undercurrent is a registered 501(c) (3) not-for-profit organization donating funds to help preserve coral reefs. Our travel writers never announce their purpose, are unknown to the destination, and receive no complimentary services or compensation from the dive operators or resort.
I want to get the full story! Tell me how I can become an Undercurrent Online Member and get online access to the complete articles from current and back issues of Undercurrent as well as thousands of first hand reports on dive operations worldwide

Highlights of Previous Online Updates
*
Here are past Online Update emails sent out . You can sign-up for free to receive these in the future here.
* Sometimes referred to as Upwellings