Diving Suspended at The Brothers
The Perfect Gift for a Dive Buddy
Don't Buy This Breathing System
Undercurrent's 2019 Traveling Divers Chapbook
A Naked Trend
Komodo Park Fees on the Rise
Shark Attack in the Bahamas
Disabled Didn't Stop Him
Read a Paperback While Diving
Some of What's on Offer In January's Undercurrent
Free-to-Read in Undercurrent
Another Gift Idea for Your Dive Buddy or Yourself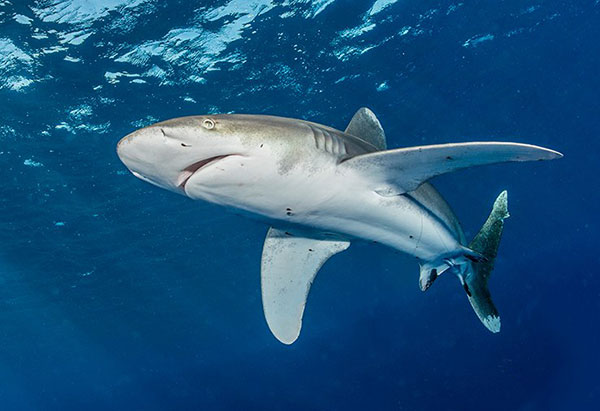 Diving Suspended at The Brothers December 17, 2018
In response to several shark attacks, one serious, by one or more Oceanic White-Tip sharks on scuba divers at the popular off-shore dive sites at the Brother Islands in the Red Sea, Egypt has suspended all diving at that location during December. More details in January's Undercurrent.
The Perfect Gift for a Dive Buddy December 17, 2018
That would be Tropical Ice, the facing moving scuba thriller written by the founder of Undercurrent. Set in Belize at Capt. Jack's Rum Point Inn, the opening chapter will knock your socks off, followed by a dangerous night dive, the discovery of sharks fins on a remote cay, rich men poaching jaguars, and a beautiful owner of a rain forest lodge with her own deep secrets. Click here to order an autographed copy (we'll email you to see how you want it inscribed) and we'll send it priority mail, in time for Christmas. Or get it from Amazon by clicking here. Prefer non-fiction? What about Amazing Diving Stories or Shark Bytes, both exception stories by Undercurrent's senior editor John Bantin? Click here.
Don't Buy This Breathing System December 17, 2018
The Triton-3 Scopel, aimed at non-divers, is being marketed with the claim that it holds an "International Diving Organization Safety Certificate". It comprises a small cylinder of compressed air that the user fills with the pump provided and then breathes via a regulator. It promises the noncertified the freedom to swim under water – without warning then of any lung expansion injuries and embolism! Warn your non-diving friends.
Undercurrent's 2019 Traveling Divers Chapbook December 17, 2018
On December 3, Undercurrent subscribers received a 1,000-page downloadable book with almost 700 worldwide 2018 travel reviews from their fellow subscribers. It's an exceptional value. If you join now, you too download this extraordinary dive travel resource. Click here.
A Naked Trend December 17, 2018
The latest travel craze in Australia is to do things naked and that includes scuba diving on the GBR when it's your 100th dive. To celebrated, the bare naked celebrators post their pictures on Instagram, to a voyeur' delight. A quick Instagram scan reveals that both men and women have enjoyed the liberated feeling and not only on the GBR – we've seen pictures from Koh Tao in Thailand to Dauin Beach in the Philippines. If you decide to drop your pants too for dives, watch out for stingers and jellyfish!
Komodo Park Fees on the Rise December 17, 2018
If you want to visit Komodo and see the dragons, be prepared to pay a whopping $500 for the privilege. The administration is planning to raise the Komodo National Park's entrance fee for divers (at present around $12 per day) to at least that number as part of their effort to boost the conservation area's prestige. They are also considering whether tourist ships entering the area should pay $50,000 so that only people with deep pockets can visit. Is that the end of liveaboard diving at Cannibal Rock?
Shark Attack in the Bahamas December 17, 2018
William Krause. 29, South Caroline man, spearfishing in the Bahamas' Abaco chain, is lucky to be alive after a 7-foot reef shark bit him in the head at the end of November. His buddies helped stem the bleeding and he escaped with only concussion and a few stiches after the scary escape.
Disabled Didn't Stop Him December 17, 2018
The Guinness Book of Records for the fastest scuba diving swim over 10km (6.21 miles) is now held by Kuwaiti Faisal Al Mosawi who managed it in a time of 5 hours 24 minutes in Hughada, Egypt. All the more astonishing is that 13 years ago he was disabled in a car accident, is normally wheelchair-bound and uses only his arms for propulsion in the water. The previous record was held by an able-bodied diver.
Read a Paperback While Diving December 17, 2018
If you find that you need to wait out a long decompression stop, such as you might do while diving the wrecks at Truk Lagoon, why not take a paperback book like my Tropical Ice about shark feeds to read while doing it? Tear off the pages you've read as you go, stuffing them in your BC pocket, and never attempt to read the book when not submerged. Keep it in your BC pocket for those occasions when time appears to pass more slowly.
Some of What's on Offer In January's Undercurrent December 17, 2018
What was new at the DEMA show in November . . . Readers' opposing views on Sunset House in Grand Cayman . . . Wreck diving for beginners. Was it appropriate? . . . Trouble at Blue Heron Bridge . . . Unreported heroics in that Thai cave . . . Do you have bedbugs in your dive kit? . . . Shearwater make a product recall . . . An unnecessarily near-fatal dive in Canada . . . A shark attacks divers in the Red Sea . . . Another diver is grabbed by a croc in the Caribbean . . . and much, much more.
Free-to-Read in Undercurrent December 17, 2018
Every month we offer a selection of articles from Undercurrent that are free-to-read for those that haven't yet subscribed. www.undercurrent.org
Another Gift Idea for Your Dive Buddy or Yourself December 17, 2018
For a very short time, you can receive eight months of Undercurrent for only $29, as well as gain immediate access to 15 years of back issues and more than 10,000 honest resort and liveaboard reviews submitted by our experienced readers. What's more, you may download for free the exciting thriller, "Tropical Ice".

Moreover, if during your trial subscription you are dissatisfied for any reason, I'll return your $29, and you can keep anything and everything you've downloaded from our website. To subscribe at this special rate of $29 for eight months, simply click here.
Ben Davison, editor/publisher
Contact Ben
-----------------------------------------------------------------------------
Note: Undercurrent is a registered 501(c) (3) not-for-profit organization donating funds to help preserve coral reefs. Our travel writers never announce their purpose, are unknown to the destination, and receive no complimentary services or compensation from the dive operators or resort.
I want to get the full story! Tell me how I can become an Undercurrent Online Member and get online access to the complete articles from current and back issues of Undercurrent as well as thousands of first hand reports on dive operations worldwide

Highlights of Previous Online Updates
*
Here are past Online Update emails sent out . You can sign-up for free to receive these in the future here.
* Sometimes referred to as Upwellings