Your Guide to Diving Honduras
Including Roatan, Guanaja, Utila, and Cayos Cochinos
All of Undercurrent's information on diving Honduras, including articles, reader reports, Chapbook sections, ...
Diving Honduras Overview
Mosquitos and sand fleas leave a lasting impression of Honduras Bay Islands, which offer diverse reefs. All dive resorts are in the Bay Islands: Roatan, Utila, Cayos Cochinos are all home to aggressive no-see-ums -- and some people have serious allergic reactions.
Those without DEET may find their vacations ruined. Diving Roatan and other Bay Islands features nice walls, offshore seamounts, and excellent coral and gorgonians, although there are few large fish.
Whale sharks are often encountered near Utila roughly February through May and boats from Roatan are chasing them too. Some Roatan resorts have easy beach diving.
The rainy season is October through February and can disrupt the diving. Spanish is spoken on the mainland, English on the Bay Islands. Classic Central American jungles and Mayan ruins inland make great mainland trips. Malaria protection is advised.

Honduras Seasonal Dive Planner
During the coldest winter months in the U.S., north winds can blow down and disrupt the diving. The rainy season starts in October or November and runs into February, but it doesn't usually affect visibility that much, though it may affect where the dive boats go. The no-see-ums are usually the worst during wet weather. The hottest months are March and August.
Featured Links from Our Sponsors
Interested in becoming a sponsor?

Reef & Rainforest
is an agency for travelers that like to scuba dive. Want to see dolphins, whale sharks, Mayan ruins? Let us plan your adventure to Honduras.
Diving Honduras Reader Reports and Feature Articles
Attention!
Undercurrent Online Member
to view the complete members-only reports and articles.

Some articles that can be fully accessed by the public
have a

button..

Latest Reader Reports from Honduras

from the serious divers who read Undercurrent
All 10,000+
Reports
Clark's Cay/Cabanas on Clark's Cay Report in Honduras
"One week on Clark's Cay"
filed Sep 21, 2023 by Joel Horie (Experience: 251-500 dives, 20 reports, Sr. Contributor )

Our stayed included first class/premium seats on the Galaxy Wave ferry. An hour before departure is plenty of time to arrive. Staff wil... ... Read more

---

CoCo View Resort Report in Honduras
"Coco View and Beach House Azul. Still a smooth operation."
filed Sep 21, 2023 by Joel Horie (Experience: 251-500 dives, 20 reports, Sr. Contributor )

Coco View One week at Coco View in Beach House Casa Azul. Took photo lessons with Mickey Charteris. Flew Delta from Atlanta. Fi... ... Read more

---

Utila Lodge Report in Honduras/Utila
"Friendly and attentive staff, easy diving"
filed Sep 15, 2023 by Beth Young (Experience: 26-50 dives)

Utila Lodge's comfortable rooms are built over the water and have screened porches. I was there in July, and it was over 90 degrees and... ... Read more

---

Seagrape Report in Honduras
"A novel emergency treatment for lionfish envenomation"
filed Jul 22, 2023 by WILLIAM BARSTOW (Experience: 501-1000 dives)

Note to editors: This report is intended to be a side note, such as you include in various areas throughout the publication. It is a ro... ... Read more

---

Roatan Aggressor/Roatan Yacht Club Report in Honduras/Roatan
"Roatan Aggressor Excellence"
filed Jul 3, 2023 by NEAL LANGERMAN (Experience: Over 1000 dives, 15 reports, Contributor )

This trip was planned to fill in some photography and videography of the south end of the Mesoamerican Reef. I considered the resorts... ... Read more

---
Complete Articles Available to Undercurrent Online Members; Some Publicly Available as Indicated

Diving Honduras Articles - Liveaboards

Roatan Aggressor, Bay Islands, Honduras, good diving, decent boat, great crew; however..., 11/22
The Caribbean, Hawaii, the Galapagos, Florida, everybody sees sharks these days, 3/22

Available to the Public
Roatan, the Brac, Sulawesi, Fiji …, and a lot of bad diving behavior, 11/17
Bonaire, Fiji, Galapagos, Roatan, great examples of customer service - - and one resort to avoid, 9/11
Wave Dancer vs. Bay Islands Aggressor, 4/94

Diving Honduras Articles - Land Based

Rangiroa, BVI, Guanaja, Bermuda, Maui and More, great diving, unsafe liveaboard, 7/23

Available to the Public
Cabañas on Clark's Cay, Guanaja, Honduras, gourmet meals, first-class service, good diving, 4/20
What's With the Star Chart?, 4/20
Stranded in Honduras: Our Utila Escape, how two American divers struggled to get home, 4/20
CoCo View Resort, Roatan, Honduras, Forty years old, and still no better outpost for Caribbean diving, 8/19
A Tragic Accident Brings a Reminder for Safe Travel, 8/19
Want to Buy a Dive Center or Liveaboard?, we found a few, if you're looking for something new to do, 7/19
Splash Inn Dive Resort, Roatan, budget diving that's best for beginners, 4/19
Villa on Dunbar Rock, Guanaja, Honduras, a tranquil "round the rock" dive spot in the Caribbean, 1/19
St. Vincent, Maldives, Roatan, Belize, destinations for everyone, 4/18
The Chinchorro Banks, Alor, Belize, Roatan, and how cut-rate trips leave early birds steaming, 2/18
Roatan Park Rangers Face Death Threats, during the fight to preserve the reefs, 2/18
Roatan Fatality, 2/17
Turquoise Bay Resort, Roatan, Honduras, an easy, pleasant getaway, 10/16
Fantasy Island, Roatan, Honduras, saying goodbye to an old friend, 8/15
Cozumel, Roatan, South Africa . . ., dive with a "Shadow Diver," or in a Las Vegas show, 11/14
CoCo View Resort, Roatán, Honduras, eat, sleep and dive a lot is their motto, 5/14
Checkout Dives: Why They're Important, 5/14
Eritrea, Kiribati, Sipadan . . ., why to consider Wananavu, when not to consider the Odyssey, 9/13
Will Honduras End Scuba Diving for Lobster?, 6/13
Belize, Hawaii, Cozumel, Palau . . ., Caribbean winter warnings and more trouble with the Siren fleet, 3/13
Mayan Princess, Roatan, Honduras, Disney-like digs and aquarium-like diving, 8/12
British Virgin Islands, Utila, Raja Ampat, serious inflator problems, credit card ripoffs, 5/12
Cozumel, Anguilla, Palau…, plus a shark dive with no sharks, and two resorts to avoid, 4/12
Mexico, Myanmar, Palau, Roatan, where to see big fish, where to avoid dead reefs and daytrippers, 6/11
Cocos, Fiji, Roatan, Yucatan, and why you shouldn't rely solely on travel agents, 5/11
Plantation Beach Resort, Honduras, diving on the quiet side of the Bay Islands, in Cayos Cochinos, 8/10
Laguna Beach Resort, Utila, Honduras, dive with a little bit of luck, patience, or both, 8/09
Royal Playa Resort, Roatán, Honduras, this basic East End place offers the most pristine reefs, 5/09
Roatán Dive Guide Charged With Attempted Murder, 5/09
Bahamas, B.V.I., Ontario, Roatan…, the good, bad and ugly in dive resorts, boats and service, 10/08
CoCo View Resort, Roatan, Honduras, hello Muddah, hello Faddah, here I am at..., 8/08
Malaria on Roatan, 8/08
Don't Forget There's Malaria Out There, 10/05
Thumbs Down, Bananarama, Roatan, 10/05
CoCo View Resort, Roatán, Honduras, 10 years later, the same diver paradise, 7/04
CoCo View Cuts the Cheese and (hopefully) Blows Away Turista, 10/03
CoCo View: Redux, 5/03
Laguna Beach Resort, Honduras, in search of whale sharks, 4/03
Thumbs Down: CoCo View, 2/03
Bayman Bay Owners Pursued, after several years of not delivering for divers, 2/03
What's Left After Mitch?, reports on Honduras, Belize, Cayman, and Cozumel, 1/99
Two Weeks In Honduras, From CoCo View to Plantation Beach, 9/98
Anthony's Key, Inn of the Last Resort, Bargains in Honduras, 2/98
Bayman Bay Club, Guanaja, Easy, cheap, tropical diving, 3/97
Resorting to Alternatives, The Great Guanaja Margarita Chase, 3/97
Bay Islands Beach Resort, Roatan, 8/96
Romeo's on Roatan, 3/96
Plantation Beach, 6/95
Isla Mia, Roatan, Honduras, C.A., Have It Your Way, 8/93
Bay Islands Aggressor, Honduras, And a Jim Church Photography Course, 1/93
Guanaja, Bay Islands, Honduras, Three Choices, If You Choose At All, 4/92
Isla Mia, Roatan, Honduras, Hard Living, Easy Diving, 6/89
Posada del Sol, Guanaja, Honduras, Truth In Advertising? Damn Near., 4/88
Travel To Honduras, 4/88
Bayman Bay Club, Guanaja, Honduras, Not War, Just Peace, 2/85
Coco View, Roatan , Honduras, No Action, Just Relaxin', 1/85
The Heddy; Roatan, A Lay Back Dive Cruise For All Skills, 5/80
Honduras Sections from Our Travelin' Diver's Chapbooks
Reader Reports filed for that year
Editor's Book Picks for Scuba Diving Honduras
Including Roatan, Guanaja, Utila, and Cayos Cochinos
The books below are my favorites about diving in this part of the world All books are available at a significant discount from Amazon.com; just follow the links. -- BD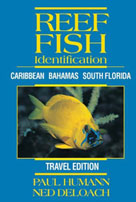 Travel Edition of Reef Fish Identification: Caribbean, Bahamas, South Florida
by Paul Humann and Ned DeLoach
Today's airline weight restrictions not only limit the amount of dive gear and cameras you can pack for overseas trips, but also those valuable prized marine life identification books. And with spotty Internet access overseas, it's not like you can look a critter of or fish up easily online. For the divers who still want a book in their hands post-dive to look up the fishes they encounter, Paul Humann and Ned DeLoach are offering "Travel Edition of Reef Fish Identification: Caribbean, Bahamas, South Florida." It's lightweight enough to thrown in your carry-on but rugged enough to withstand frequent saltwater washings on board.
Click here to buy it at Amazon.
---

World Atlas of Coral Reefs
by Mark D. Spalding, Corinna Ravilious, Edmund P. Green, United Nations World Conservation Monitoring Center.
If there is one book that belongs in every traveling diver's library, this is it. The superb World Atlas of Coral Reefs has everything you want to know about the reefs from Costa Rica and Cuba to the Coral Sea and Cayman. The information is specific and up to date. The photos, maps and layout superb. And the price, for this 424 page, full color, hard bound volume, is a steal at $31.50
The Atlas was released in September by the United Nations World Conservation Monitoring Center to document and conserve the world's coral reefs. Clearly written with divers in mind, it's an invaluable resource for global travelers. Here's what you'll find.
94 maps, including global maps of biodiversity and reef stresses, regional maps showing 3-D bathymetry and high resolution maps showing reefs, mangroves, population centers, dive centers and protected areas.
280 color photographs, showing reefs, wildlife, people and places, Including 84 photographs taken from space by Shuttle astronauts.
Text explaining the formation, structure and ecology of coral reefs; their various uses and abuses at the hands of humans; and the techniques used in coral reef mapping.
Detailed texts describing the distribution and status of coral reefs in every country.
Data tables listing information on biodiversity, human use, and protected areas. These include statistics on coral reef area, biodiversity, fish consumption, and threats.
For example, you can learn about pollution damage to the reefs at Providenciales and the lack of human impact, as well. Or, where extensive bleaching took place in Honduras 1998. You'll read that Milne Bay in Papua New Guineas has the most extensive reef system in that country and where, in Fiji, the bumphead parrotfish and tridachna clams will not be found, thanks to overfishing. Order now.
---
The Reef Set: Reef Fish, Reef Creature and Reef Coral (3 Volumes):
Paul Humann ID Books
by Paul Humann, Ned Deloach
The three set fish, creature and coral ID books by Paul Humann are the unparalleled sources for information on Caribbean sea life and identification. Paul and his partner Ned Deloach recently released updated and expanded editions of each, with scores of new critters, even better photos, and information unavailable anywhere else. Why, the Reef Fish Identification book, at more than 500 pages, is 20 percent larger than the previous volume, which came out in 1994. Whenever I travel to the Caribbean, I tote all three books and spend my down hours figuring out what I saw and where to look to find rare creatures. Paul's splendid Reef Creature book (420 pages), covers sponges, nudibranchs, octopus, crustaceans, Christmas tree worms and plenty more. His Reef Coral ID book (276 pages) helps you identify all the hard and soft corals, spawning, and even the growth on top of corals, as well as algae and other plant life. Beginners may want to ID only fish, but I'd recommend that all three books be part of every diver's library. And, if you have an old set, by all means replace it. You'll be delighted at the additions and improvements. Each book normally retails for $40, but are discounted when you order here. And the boxed 3-volume set is available now at a bigger discount, up to 30%. Click below to buy them at Amazon:
* Reef Fish Identification: Florida Caribbean Bahamas,
* Reef Creature Identification: Florida Caribbean Bahamas, and
* Reef Coral Identification: Florida Caribbean Bahamas
* The Boxed Set of all three (you can save up to 30%)
---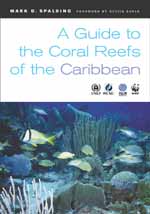 A Guide to the Coral Reefs of the Caribbean
by Mark Spalding
This book doubles as a guide to the natural history of the coral reefs and a diver's travel guide. In addition to providing information about some of the most popular diving and snorkeling, it also offers practical suggestions to divers who want to protect these sites. Author Mark Spalding, a coral reef scientist who has worked on coral reefs in over thirty countries, delves into the eco-problems with a focus on what each person can do to protect the reefs. The guide section covers 35 dive destinations with key information on the reefs, marine parks, remote places, and unusual species as well as excellent maps and a photographic field guide of the marine flora and fauna.
Order Now at a reduced price of only $16.47.
---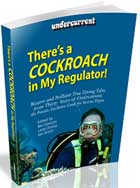 There's a Cockroach in My Regulator
by Undercurrent
The Best of Undercurrent: Bizarre and Brilliant True Diving Tales from Thirty Years of Undercurrent.

Shipping now is our brand new, 240-page book filled with the best of the unusual, the entertaining, and the jaw dropping stories Undercurrent has published. They're true, often unbelievable, and always fascinating. We're offering it to you now for the special price of just $14.95.

Click here to order.
---
You might find some other books of interest in our Editor's Book Picks section.