Your Guide to Diving The Continental USA
including Florida, California, Texas, North Carolina, South Carolina, Alaska, Washington, Missouri
All of Undercurrent's information on diving The Continental USA, including articles, reader reports, Chapbook sections, ...
Diving The Continental USA Overview
California's coastal waters can be divided into two distinct regions. North of Pt. Conception (a hundred-mile drive from L.A.), temperatures drop into around 50°F (10°C) below the thermocline, visibility ranges from 10 to 60ft (3-18m), and animals closely resemble those of Puget Sound and British Columbia. Shore diving in this region requires surf entry, and each year unskilled divers are killed trying to enter or exit. Abalone, which are growing scarce, may be collected only by free divers . . . South of Pt. Conception, surface temperatures may reach around 70°F (22°C) in summer, though temperatures below the thermocline remain only a little more than 50°F (10°C) year-round with visibility ranging from 20-100ft (6-30m). Animals and plants in this region resemble those in northern Mexico. There's beautiful kelp and good fish life around the Channel Islands, which are accessible by boat from Santa Barbara and Los Angeles . . . The best time of year for diving is in late summer or early fall when plankton blooms cease and winter storms have yet to begin . . . A 7mm wetsuit and hood or a drysuit is needed everywhere in California regardless of the season . . . There's roughly one great white shark attack annually north of Monterey; surfers seem most at risk, followed by free divers and scuba divers.
Florida is the true home of American scuba diving where ony a 5mm wetsuit is required at most. With only shallow reefs, a vast number of oft visited wrecks have been intentionally sunk both to protect the coastline from erosion on the eastern seaboard and solely for the entertainment of divers farther south in the Florida Keys. These include the satellite-tracking ship USS.Vandenberg, the USS.Spiegel Grove close to Key Largo and the aircraft carrier USS.Oriskany, sunk within day boat range of Pensacola on the Florida panhandle.
The Continental USA Seasonal Dive Planner
Florida: It's where many American learn to dive and the best time to dive the reefs and wrecks of the Florida Keys or the wrecks of the east coast is during the summer May to September when the seas are mainly calm (unless there is a hurricane) and the water temperature varies between 83° and 87°F (27-33°C). See also the Bahamas.
Diving The Continental USA Reader Reports and Feature Articles
Attention!
Undercurrent Online Member
to view the complete members-only reports and articles.

Some articles that can be fully accessed by the public
have a

button..

Latest Reader Reports from The Continental USA

from the serious divers who read Undercurrent
All 10,000+
Reports
LAKE TRAVIS SCUBA Report in The Continental USA/LAKE TRAVIS, TEXAS
"A Local Jewel of a Diving Adventure."
filed Sep 19, 2023 by William Hubbarth (Experience: Over 1000 dives, 8 reports, Sr. Reviewer )

I have been diving with LTS for 15 years. The best dive operation in inland Texas, located on Lake Travis, 15 miles outside of Austin. ... ... Read more

---

Starfish Scuba, South Florida Dive HQ/Private home Report in The Continental USA/Southeast FL, Boynton Beach
"Nice end of summer diving in SE FL"
filed Sep 18, 2023 by Craig A Wood (Experience: Over 1000 dives, 48 reports, Top Contributor )

I was last down in Florida in June, the first time this year since recovering from my broken leg at the end of last year. I had a great... ... Read more

---

Rainbow Reef Report in The Continental USA/Key Largo
"Disappointing experience"
filed Sep 15, 2023 by Beth Appelt (Experience: 501-1000 dives, 3 reports, Reviewer )

[I have dove with Rainbow Reef in the past but not for many ears. My experience this time around was enough to make me never book with... ... Read more

---

Texas Caribbean Charters Report in The Continental USA/Texas
"Thriving corals, lots of fish at Flower Gardens Reefs"
filed Aug 14, 2023 by Mary K Wicksten (Experience: Over 1000 dives, 17 reports, Contributor )

It's tough to plan visits to the Flower Gardens Banks in the northern Gulf of Mexico. There is no shelter from any sort of wind or sto... ... Read more

---

Olympus Dive Center Report in The Continental USA/Morehead City, NC
"Sand Tiger Sharks, Galore!"
filed Aug 7, 2023 by Richard Blackburn (Experience: Over 1000 dives, 11 reports, Sr. Reviewer )

This is a great place to see WWII wrecks. We did a full day charter on the Midnight Express. Full day charter: https://www.olympusd... ... Read more

---
Complete Articles Available to Undercurrent Online Members; Some Publicly Available as Indicated

Diving The Continental USA Articles - Liveaboards

Do Great Whites Mate off the Carolinas?, 3/22

Available to the Public
New Fire Safety Regulations Coming for US Liveaboards, 11/19
The Tragic Tale of the Conception Fire, the cause remains unknown, 10/19
Dive Vessel Inspections: Not All Insured Liveaboards Have Been Thoroughly Checked, 10/19
A Fast Trip to the Top Is Disastrous, faulty gear or lack of familiarity can kill, 9/17
Flower Garden Banks May be Off Limits to Divers, 9/16
Skipper's Remorse at Loss of Diver., 8/16
Belize, Bonaire, Florida, Philippines . . ., and a Cozumel dive shop with a great refund policy, 7/15
MV Fling, Flower Gardens, Texas, seven dives in 27 hours for just $645, 9/14
Still Unclear How Key Largo's Get Wet Got Wet, 2/12
Why You Need Undercurrent, we really give you the truth about "undiscovered" dive sites: Florida, Borneo, Grand Cayman …, 10/10
MV Horizon, San Diego, California, kelp forests and sea lions, 10/06
California Dive Boats, 10/06
Thumbs Down, DeSoto Divers of Florida, 7/05
The Cypress Sea, Northern California boat diving, 6/05
U.S. Great White Diving, 6/03
Rinn Rules, 10/01
Blackbeards Cruises, Miami, For Divers Or Party People?, 10/84
Los Angeles/Santa Barbara Dive Boats, 4/82
Southern California Charter Boat Diving, Part II, Tough and rewarding., 6/77
Southern California Charter Boat Diving, Extraordinary, unique, and cold. . . and not for turkeys., 5/77

Diving The Continental USA Articles - Land Based

Key West Dive Instructor Disappears, 9/23
Four Divers in North Carolina Rescued Far at Sea, 9/23
Golden Tides Threaten Mexico's and Florida's Reefs and Beaches, 3/23
In One Month, Five Divers Have Died in Florida, 4/22
Florida Goliath Grouper Protection Battle Lost, 3/22
Starving Manatees Get Salad and a Warm Bath, 2/22
The Goliath Grouper Needs Your Help by January 13th, 1/22
The Wonderful Thing About Gold as Discovered by Mel Fisher, 9/21

Available to the Public
Good News about Saving America's Reefs, 5/20
California's Giant Sea Bass – A Promising Story, 4/20
Florida Dive Boat Prop Kills Diver, 4/20
Thoughtless Boater Damages Florida Corals, 4/20
Fiji, Molokai, Little Corn Island, St. Eustatius, following the guide leads to skin bends, 11/19
The Seahorses off Long Beach, CA, 9/19
Flesh-Eating Bacteria Strikes in Florida, 8/19
Divers Find the Last Slave Ship, 7/19
After Drifting for Eight Hours, "I'm Just Glad I'm Alive, 7/19
Are Great Whites the Ocean's Most Fearsome Predators? New Findings Say No, 7/19
Red Tide Is Gone, But Here Is Florida's New Coastal Threat, 4/19
No Abalone Diving in California Until at Least 2021, 1/19
Olympus Dive Center, North Carolina, sharks and shipwrecks galore, but that tank policy . . ., 10/18
Florida's Red Tide Crisis: Which Dive Spots Are Affected, 9/18
Nicaragua, Lembeh, Thailand, Florida, Socorro, Unusual dives, cheap flights, a new resort, 5/18
The End of American Abalone Diving?, a desperate situation demands desperate measures, 5/18
New Critters to Spot Along the West Coast, 11/17
The Florida Shark Diving Saga Continues, a bite and an attack raise more issues, 7/17
A Bad Weekend At a Training Lake, 7/17
Urban Diving after a Rain Storm, 4/17
Treasure Trove in Lake Travis, 4/17
Great White Sharks are Back in Florida and You Can Track Them, 4/17
Kill 'em but Don't Feed 'em?, a campaign to ban shark feeding!, 3/17
Now Kelp Forests Take a Beating, 3/17
Big Sharks Spotted Off Florida's Atlantic Coast, 2/17
Hyperbaric Help Might Not Be Close At Hand in Florida, 1/17
Florida Caves Claim Two More, 11/16
Mako Shark Bite Lawsuit Makes Court Progress, 9/16
California Great White Shark Population on the Rise, 7/16
Most Dangerous Inland America Dive Sites?, 5/16
The Sun Diver Loses Another Diver, 2/16
Fugitive Dive Operators Found, Then Charged with Manslaughter, 8/15
The Biggest Dive Lawsuit Payout to Date, father and son get $12 million after being run over by dive boat, 7/15
Cozumel, Roatan, South Africa . . ., dive with a "Shadow Diver," or in a Las Vegas show, 11/14
Shady Operator Sent to Prison for a Diver's Death, 11/14
Florida, Maui, Palau . . ., good and bad Bahamas dive shops; the best week to dive Bonaire, 10/14
Readers' Letters: Bends, Photographers and Scaring Sharks, 9/14
Snorkel with Manatees, Homosassa, Florida, "it's like Disneyland in the water", 3/14
Can Someone Give Us the GPS Coordinates to This Dive Site?, a true South Seas paradise, with top-notch dive spots, 3/14
Falling Stars: Mass Starfish Deaths on the West Coast, 1/14
Key Largo, Maui, New Zealand . . ., maiden voyage kinks in Thailand, a rude photo pro in Bonaire, 5/13
Belize, Hawaii, Cozumel, Palau . . ., Caribbean winter warnings and more trouble with the Siren fleet, 3/13
Bandito Charters, Tacoma, Washington, how warm-water divers from Florida did diving Puget Sound, 1/13
Admirals Club, Singer Island, Florida, superb critter diving, trips to the Gulf Stream, 11/12
Shore Diving in Intracoastal Tidal Waters, 11/12
Amoray Dive Resort, Key Largo, Florida, mixed reviews, but still a winner, 11/12
Bahamas, Carriacou, Puerto Rico . . ., and choose from land-based or liveaboard options in the Galapagos, 10/12
Beneath Cold Seas, 2/12
How Divers Can Help the Florida Keys, 8/10
Price-Fixing Dive Shops on Catalina Island, undercover dive operator bests them, 6/10
Two Harbors, Santa Catalina Island, CA, the other Catalina, 2/10
San Diego Dive Shop With a Dark History, a suicide, a dead diver and accusations of lies and theft, 2/10
Jim Abernethy, Scuba Adventures, Florida, not what I bargained for, 10/09
Palm Beach Diving, 10/09
Florida's Newest Wreck Dive, 7/09
Florida, California, Bahamas, Philippines…, good U.S. diving, Cozumel's best gear repairman, and more, 5/09
Dive Deals in the U.S. and South Pacific, more dive trip bargains, plus a good Caribbean flight tip, 9/08
Barbados, Oman, Puget Sound, Samoa, updates on far-flung diving locales, 3/08
The Flower Gardens of Texas, in search of spawning coral, 2/04
Cancel That Trip to Fiji, 4/02
The Channel Islands, Southern California, great boat diving for $100/day with room and board, 8/01
Where In the World is Carmen San Diego?, . . . when she's shark diving with WWII wrecks, 9/00
Boot Camp for Divers, Learning Cavern Diving in Florida, 5/99
Swirls and Surges in the California Kelp, Catalina, Farnsworth Bank, and the Channel Islands, 3/99
Shark Sanctuary, 5/96
Roughing It in Los Roques, 2/95
Adventuring in Venezuela, 2/95
Great White Attacks California, 10/93
Florida's Ninth Annual Underwater Music Festival, 9/93
Mako Attacks CaliforniaDiver, 2/93
Crystal River, Florida, Slaughter Of An Endangered Species, 11/92
Obituary for Florida's Coral Reffs?, 1/92
The Dry Tortugas, Florida, A Cruise For Killers Only, 6/88
The Florida Keys, U.S.A., Inside And Outside The Park, 7/87
Dophins Plus, Key Largo guaranteed Swim With The Dolphin, 7/87
Three Brothers Flaunt Florida's Death Trap, Cave Diving Fatalities Now In The Hundreds, 10/86
Florida Regulation Of Instructor Certification, It's In The Hands Of The Legislature, 3/86
Animal Attacks On Divers: Frightening Fables From Florida, 11/83
Long Island, New York: Part II, Safer Than The Caribbean, 6/83
Long Island and Block Island, New York, Part I, The Thrills of Cold Water Wreck Diving, 5/83
The Rona Coast, Island Of Hawaii, U.S.A., Life Inside A Lava Tube, 6/82
Los Angeles And Santa Barbara, California, Fine Boats, Fine Diving, Fine Prices, 4/82
Ciguatera Poisoning Strikes Florida, You'd Just Rather Be Dead., 8/80
Crystal River, And Ginnie Springs, Florida, The Heinie Of A Manatee, The Dark Of A Cave, 2/80
Traveling To Florida?, 2/80
Palm Beach, Florida, A sure stop en route to the Keys., 11/76
The Florida Keys: Part Two, Camping, Conching, and Carping, 3/76
The Florida Keys: Part One, For Some, It's Terrific; for Others, lt's So-So, 2/76
The Continental USA Sections from Our Travelin' Diver's Chapbooks
Reader Reports filed for that year
Editor's Book Picks for Scuba Diving The Continental USA
including Florida, California, Texas, North Carolina, South Carolina, Alaska, Washington, Missouri
The books below are my favorites about diving in this part of the world All books are available at a significant discount from Amazon.com; just follow the links. -- BD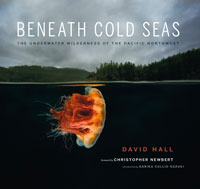 Beneath Cold Seas: The Underwater Wilderness of the Pacific Northwest
by David Hall
It's hard enough to take a first-rate photo of reef life in the best of conditions. Try doing it in murky, bone-numbingly cold water while wearing a dry suit with 40-plus pounds of weights around your waist, and thick, insulating gloves that make it hard to use the camera controls. That's what David Hall had to endure while photographing in Canadian waters, but those physical disadvantages make Beneath Cold Seas all the more amazing.
Hall's book successfully disputes the belief that cold-water reefs are drab and dismal. He has regularly photographed the world's most beautiful dive spots for major magazines from National Geographic to Time. While Hall's shots are taken entirely at Browning Passage in British Columbia, the reef life he shoots resides along the Pacific Coast, from Northern California up to Alaska, and they are as diverse and spectacular as any creature in Raja Ampat or Fiji.
Click here to buy it at Amazon via our website -- our profits go to save the reefs.
---

Reef Fish Identification: Baja to Panama
by Paul Humann and Ned Deloach
The latest edition in the popular Paul Humann series of marine life books. The most comprehensive field guide ever compiled for identifying reef fishes from the Gulf of California to the Pacific coast of Panama, including offshore islands. More than 500 photographs of 400 species taken in their natural habitat. The book is dedicated to Baja Legend Alex Kerstitch and includes several of his drawings and photographs. The concise text accompanying each species portrait includes the fish's common, scientific and family names, size range, description, visually distinctive features, preferred habitat, typical behavior, depth range, and geographical distribution.
Click here to buy it at Amazon.
---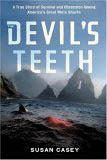 The Devil's Teeth: a true story of Obsession and Survival among America's Great White Sharks:
by Susan Casey
Perhaps the greatest gathering of great white sharks in the world is at the Farallon islands, 26 miles from San Francisco. Researchers have tracked and studied them for years and at least one diver still collects sea urchins in the midst of their gatherings. Journalist Susan Casey lived on these barren islands to write a fascinating, awe-struck account of the sharks, their amazing behavior, their killing strategies, their long distance travels, and life with the researchers. Click on this Undercurrent link to purchase the 304-page, hardbound, The Devil's Teeth at Amazon.com's best price, and all our proceeds will go to coral reef conservation.
---

An American Underwater Odyssey: 50 Dives in 50 States
: by Charles Ballinger.
Underwater Odyssey is the story of a scuba diving safari to every state in America. Tired of touring coral reefs, the author embarks on a year-long quest to discover the incredible assortment of adventure diving found in our nation's backyard. His dogged determination to follow his dreams and explore everything from flooded missile sites to abandoned mines should be an inspiration for any diver. Underwater Odyssey transcends the limits of a dive guide to reveal the broader adventure that diving provides.
Click here to buy it at Amazon.
---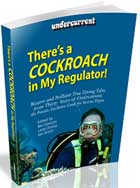 There's a Cockroach in My Regulator
by Undercurrent
The Best of Undercurrent: Bizarre and Brilliant True Diving Tales from Thirty Years of Undercurrent.

Shipping now is our brand new, 240-page book filled with the best of the unusual, the entertaining, and the jaw dropping stories Undercurrent has published. They're true, often unbelievable, and always fascinating. We're offering it to you now for the special price of just $14.95.

Click here to order.
---
You might find some other books of interest in our Editor's Book Picks section.