Your Guide to Diving Cozumel and the Mexican Yucatan
Including Cancun, Mayan Coast, Akumal, and the rest of the Yucatan and Mexican Caribbean
All of Undercurrent's information on diving Cozumel and the Mexican Yucatan, including articles, reader reports, Chapbook sections, ...
Diving Cozumel and the Mexican Yucatan Overview
The island of Cozumel and the Yucatan peninsula attracts thousands of divers yearly. Many operators cater to experienced, savvy divers -- but some load boats with all comers. Much of Cozumel's diving is deep or drift dives. Carry a surface-signaling device (strobe, safety sausage, etc.).
The best Cozumel diving is in spring and summer. It can be rainy during the winter. Accommodations range from small, inexpensive downtown hotels to diver hangouts to high dollar hotels. There's a lot of partying, thanks to an overload of cruise ship passengers.
Many divers take day trips to the mainland by regular and inexpensive ferry to dive the freshwater cenotes -- prehistoric cave systems. Diving in a cenote can give you a new standard of visibility. For diving along the Yucatan coast, there are dive operations from Cancun south, but the diving is mainly patch reef diving.
Isla Mujeres (the Isle of Women), off Cancun, has some decent reef diving and a drift or two. Whale sharks aggregate during several summer weeks northwest of Cancun, both there and near the island of Holbox, where one can just about be guaranteed to snorkel with scores of these behemoths. The experience has recently become very popular with groups of underwater photographers.
Cozumel and the Mexican Yucatan Seasonal Dive Planner
Cozumel enjoys a fairly constant temperature of 80°F (27°C), but it rises to near 95°F (35°C) during July and August, which are also rainy months. During these months, it can get hot and humid if you venture away from the sea breeze or don't have an air-conditioned room. The rainy season runs from June through October (which is also hurricane season). Rainfall doesn't affect water visibility, as there is very little run-off. Cozumel is blessed with great visibility because of its strong currents. Cold fronts blowing down from the north can make temperatures fall during the coldest winter months, but Cozumel, because of its size and proximity to the mainland, is usually less affected than most Caribbean islands. Water temperatures vary from 75°- 85°F (26-29°C).
Diving Cozumel and the Mexican Yucatan Reader Reports and Feature Articles
Attention!
Undercurrent Online Member
to view the complete members-only reports and articles.

Some articles that can be fully accessed by the public
have a

button..

Latest Reader Reports from Cozumel and the Mexican Yucatan

from the serious divers who read Undercurrent
All 10,000+
Reports
PUNTA SUR DIVERS Report in Cozumel and the Mexican Yucatan/Santa Rosa, San Francisco, Pun
"BEST ON THE ISLAND!"
filed Sep 19, 2023 by William Hubbarth (Experience: Over 1000 dives, 8 reports, Sr. Reviewer )

I have been following Jorge, "El Cubano", IMHO the best dive master in Cozumel, for the last 23 years. He is one of the main reasons th... ... Read more

---

Under The Jungle Report in Cozumel and the Mexican Yucatan/Riviera Maya Yucatan Mexico
"Cenote Diving - Whole Different Beast for an Ocean Diver"
filed Sep 17, 2023 by Peter Neubauer (Experience: Over 1000 dives, 10 reports, Sr. Reviewer )

Diving the fresh water Cenotes should be on every serious divers bucket list. These are NOT caves but cenotes. Guides are required an... ... Read more

---

Dressel Divers/Iberostar Report in Cozumel and the Mexican Yucatan
"Another wonderful trip"
filed Sep 15, 2023 by Jeffrey Raffa (Experience: Over 1000 dives, 4 reports, Reviewer )

Dressel Divers at the Iberostar Cozumel continue to be excellent. The dive masters, mariners and captains are always terrific. I have n... ... Read more

---

Aldora Divers/Casa Mexicana Report in Cozumel and the Mexican Yucatan/Cozumel
"Lovely, low hassle, couples get-away"
filed Sep 15, 2023 by Andres Macia (Experience: Over 1000 dives)

Aldora Divers is professionally run, modern, & organized, with exceptional safety standards & communication. They cater to more experie... ... Read more

---

Aqua Adventures Eco Diving/Nautibeach (rentable condos) Report in Cozumel and the Mexican Yucatan/Isla Mujeres
"The Place to Go for Whale Sharks in Your Face"
filed Sep 15, 2023 by Ken Kurtis (Experience: Over 1000 dives, 17 reports, Contributor )

TRIP REPORT - http://www.reefseekers.com/PIXPAGES/Isla%20Mujeres%202023/Isla%20Mujeres%202023%20trip%20report.html SMUGMUG SLIDESHOW... ... Read more

---
Complete Articles Available to Undercurrent Online Members; Some Publicly Available as Indicated

Diving Cozumel and the Mexican Yucatan Articles - Land Based

Golden Tides Threaten Mexico's and Florida's Reefs and Beaches, 3/23
Another Cozumel Propeller Accident , 2/23
Cozumel Diver Disappears from Surface , what you need to know about down currents, 2/23
The Caribbean, Palau, Fiji and the Philippines, readers report and it's not always plain sailing, 10/22
How Safe Are You From Fire?, lessons from the Allegro Cozumel Hotel fire, 9/22
PADI Responds to Cancun Diver Fatalities, 8/22
The Yucatan Stonewalls its Diving Deaths, and the streets can be dangerous, 7/22
Yucatan Cenotes in Danger of Destruction, 3/22
Cancun Dive Boat Propellers Kill Two American Divers, 3/22
Insuring The Local Reef: Is this the Future of Conservation?, 9/21
Living Underwater, Cozumel Mexico, the surprises of getting back in the water, 7/21

Available to the Public
Iberostar, Dressel Divers, Cozumel and Playa del Carmen, the one-week trifecta: reefs, cenotes, whale sharks, 1/20
Cozumel Reef Closure Update, 1/20
Fiji, Molokai, Little Corn Island, St. Eustatius, following the guide leads to skin bends, 11/19
Bringing Underwater Camera Gear to Dive in Mexico?, it just may cost you, 10/19
Dying Coral Closes Much of Cozumel Diving, and both the reefs and the jobs are on the line, 10/19
Raja Ampat, Bonaire, Maldives, Cozumel . . ., and endless trash spilling into the water, 7/19
Cozumel, Raja Ampat, Cuba, Grand Turk . . ., plus advice on wetsuits and resort options for older divers, 5/19
Bonaire, Cozumel, Cuba, Fiji, Palau . . ., spear tossers, baggage restrictions and thieving crews, 9/18
The Lesson Of Walden Pond Or Why Not To Pee Underwater, 6/18
The Chinchorro Banks, Alor, Belize, Roatan, and how cut-rate trips leave early birds steaming, 2/18
Cozumel Dive Boat Sinks, 2/18
Cozumel and the Cenotes, Yucatan, Mexico, commuting to the caverns, 1/18
Aldora Divers, Cozumel, Mexico, concierge diving . . . and the other Cozumel, 5/17
A Cozumel Tragedy, sometimes only a buddy knows what happened, 4/17
XTC Dive Center, Xcalak, Mexico, face-to-face with crocodiles in the Yucatan, 11/15
Aqua Safari and Living Underwater, Cozumel, Two different dive operators, two different views, 6/15
Cozumel, Roatan, South Africa . . ., dive with a "Shadow Diver," or in a Las Vegas show, 11/14
Cozumel and Akumal, Mexico, two unique dive trips in seven days, 6/14
Yucatek Divers, Playa del Carmen, Mexico, whale sharks, cenotes and reefs on demand, 9/13
Where Do Whale Sharks Spend the Winter?, 9/13
An Alternative Whale Shark Dive, 9/13
Bonaire, Cozumel, St. Vincent…, legendary guide retires, dive shop disputes, and more, 1/13
Cancun, Cabo San Lucas, Fiji, Truk. . ., plus unexpected cold water, and a liveaboard to avoid, 8/12
Bonaire, Maui, Phuket…, Francis Coppola's five-star resort, a clueless Cozumel divemaster, 6/12
Living Underwater, Cozumel, Mexico, back to my first love, who still looks fantastic, 4/12
Cozumel, Anguilla, Palau…, plus a shark dive with no sharks, and two resorts to avoid, 4/12
Puerto Morelos, Yucatan, Mexico, decent reefs, great cenotes, 7/11
Cocos, Fiji, Roatan, Yucatan, and why you shouldn't rely solely on travel agents, 5/11
Save the Whale Sharks, help them adapt to their new home, 9/10
The Sailfish of Isla Mujeres, 9/09
Florida, California, Bahamas, Philippines…, good U.S. diving, Cozumel's best gear repairman, and more, 5/09
Diver Car-Rental Scam in Cozumel, 1/08
Costa de Cocos, Xcalak, Mexico, good diving near the Belize border, 8/07
Isla Cozumel, Mexico, recovering nicely from Hurricane Wilma, 7/07
Help With Project Cozumel, 7/07
Slow Versus Fast Boats, 7/07
Post-Hurricane Cozumel, the reefs? well, they're different, 4/06
Holbox Whale Sharks, Bonaire Wild Side, destinations to keep in mind, 2/06
A Good, Safe Operator on Cozumel, 7/05
Valet Diving in Cozumel, — relax and go with the flow, 5/05
In the Realm of Mayan Gods, 5/05
Holbox Island, Quintana Roo, Mexico, some big, big surprises, 10/04
Reports From Readers: Part I, Cozumel's adult dive operators, Bonaire bummers, 8/04
Cozumel Taxi Mafia Holds Tourists Hostage, 6/04
Cozumel, Q. Roo, East side, west side, all around the island, 3/01
Cozumel For the Serious Diver, A perennial returnee's view, 2/00
Recommended Cozumel Dive Ops For Advanced Diving, 2/00
Tips for Diving Cozumel, 2/00
Diving Into the Interior of the Yucatan, staying at the Villas DeRosa and diving the cenotés, 7/99
Plantaris: Another Pain, 7/99
Cozumel Ferry Robbed, 7/99
It's a Pca for my BC, 7/97
Editorial Notebook, Things we've learned since the last issue, 7/97
Cozumel Warning: Phony Phones, 7/97
Yucatán: Chinchorro, Bank, Aldora Divers, 10/96
Palau Seaplane, 10/96
Wild Cat Divers and Others in Cozumel, 10/96
Yucatán Diving Tour, 2/96
Endangered Seashores, 1/95
Common Diving Mistakes, 1/95
Barracuda Reef by Dive Light, 5/94
For the Double Standard, 5/94
The Endless Death In Cozumel, Is This an Answer to the Mystery?, 9/93
Cavern Diving as a Sidetrip From Cozumel, 9/93
Two Die In Cozumel, Too Much Weight, Not Enough Buoyancy, 5/93
An Update On Cozumel, 10/88
Cozumel, Quintana Roo, Mexico, Definitely Not For First Time Divers, 9/83
Cozumel, Mexico: Revisited, Is the downward trend reversed?, 6/78
Cozumel and the Mexican Yucatan Sections from Our Travelin' Diver's Chapbooks
Reader Reports filed for that year
Editor's Book Picks for Scuba Diving Cozumel and the Mexican Yucatan
Including Cancun, Mayan Coast, Akumal, and the rest of the Yucatan and Mexican Caribbean
The books below are my favorites about diving in this part of the world All books are available at a significant discount from Amazon.com; just follow the links. -- BD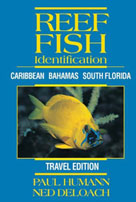 Travel Edition of Reef Fish Identification: Caribbean, Bahamas, South Florida
by Paul Humann and Ned DeLoach
Today's airline weight restrictions not only limit the amount of dive gear and cameras you can pack for overseas trips, but also those valuable prized marine life identification books. And with spotty Internet access overseas, it's not like you can look a critter of or fish up easily online. For the divers who still want a book in their hands post-dive to look up the fishes they encounter, Paul Humann and Ned DeLoach are offering "Travel Edition of Reef Fish Identification: Caribbean, Bahamas, South Florida." It's lightweight enough to thrown in your carry-on but rugged enough to withstand frequent saltwater washings on board.
Click here to buy it at Amazon.
---

World Atlas of Coral Reefs
by Mark D. Spalding, Corinna Ravilious, Edmund P. Green, United Nations World Conservation Monitoring Center.
If there is one book that belongs in every traveling diver's library, this is it. The superb World Atlas of Coral Reefs has everything you want to know about the reefs from Costa Rica and Cuba to the Coral Sea and Cayman. The information is specific and up to date. The photos, maps and layout superb. And the price, for this 424 page, full color, hard bound volume, is a steal at $31.50
The Atlas was released in September by the United Nations World Conservation Monitoring Center to document and conserve the world's coral reefs. Clearly written with divers in mind, it's an invaluable resource for global travelers. Here's what you'll find.
94 maps, including global maps of biodiversity and reef stresses, regional maps showing 3-D bathymetry and high resolution maps showing reefs, mangroves, population centers, dive centers and protected areas.
280 color photographs, showing reefs, wildlife, people and places, Including 84 photographs taken from space by Shuttle astronauts.
Text explaining the formation, structure and ecology of coral reefs; their various uses and abuses at the hands of humans; and the techniques used in coral reef mapping.
Detailed texts describing the distribution and status of coral reefs in every country.
Data tables listing information on biodiversity, human use, and protected areas. These include statistics on coral reef area, biodiversity, fish consumption, and threats.
For example, you can learn about pollution damage to the reefs at Providenciales and the lack of human impact, as well. Or, where extensive bleaching took place in Honduras 1998. You'll read that Milne Bay in Papua New Guineas has the most extensive reef system in that country and where, in Fiji, the bumphead parrotfish and tridachna clams will not be found, thanks to overfishing. Order now.
---
The Reef Set: Reef Fish, Reef Creature and Reef Coral (3 Volumes):
Paul Humann ID Books
by Paul Humann, Ned Deloach
The three set fish, creature and coral ID books by Paul Humann are the unparalleled sources for information on Caribbean sea life and identification. Paul and his partner Ned Deloach recently released updated and expanded editions of each, with scores of new critters, even better photos, and information unavailable anywhere else. Why, the Reef Fish Identification book, at more than 500 pages, is 20 percent larger than the previous volume, which came out in 1994. Whenever I travel to the Caribbean, I tote all three books and spend my down hours figuring out what I saw and where to look to find rare creatures. Paul's splendid Reef Creature book (420 pages), covers sponges, nudibranchs, octopus, crustaceans, Christmas tree worms and plenty more. His Reef Coral ID book (276 pages) helps you identify all the hard and soft corals, spawning, and even the growth on top of corals, as well as algae and other plant life. Beginners may want to ID only fish, but I'd recommend that all three books be part of every diver's library. And, if you have an old set, by all means replace it. You'll be delighted at the additions and improvements. Each book normally retails for $40, but are discounted when you order here. And the boxed 3-volume set is available now at a bigger discount, up to 30%. Click below to buy them at Amazon:
* Reef Fish Identification: Florida Caribbean Bahamas,
* Reef Creature Identification: Florida Caribbean Bahamas, and
* Reef Coral Identification: Florida Caribbean Bahamas
* The Boxed Set of all three (you can save up to 30%)
---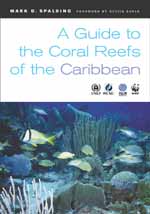 A Guide to the Coral Reefs of the Caribbean
by Mark Spalding
This book doubles as a guide to the natural history of the coral reefs and a diver's travel guide. In addition to providing information about some of the most popular diving and snorkeling, it also offers practical suggestions to divers who want to protect these sites. Author Mark Spalding, a coral reef scientist who has worked on coral reefs in over thirty countries, delves into the eco-problems with a focus on what each person can do to protect the reefs. The guide section covers 35 dive destinations with key information on the reefs, marine parks, remote places, and unusual species as well as excellent maps and a photographic field guide of the marine flora and fauna.
Order Now at a reduced price of only $16.47.
---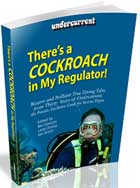 There's a Cockroach in My Regulator
by Undercurrent
The Best of Undercurrent: Bizarre and Brilliant True Diving Tales from Thirty Years of Undercurrent.

Shipping now is our brand new, 240-page book filled with the best of the unusual, the entertaining, and the jaw dropping stories Undercurrent has published. They're true, often unbelievable, and always fascinating. We're offering it to you now for the special price of just $14.95.

Click here to order.
---
You might find some other books of interest in our Editor's Book Picks section.